Board Co-Secretary – Sonja (Sunny) Jarvis
Board Co-Secretary – Sonja (Sunny) Jarvis
"Sunny" spent her early years in Memphis, TN, where she graduated from high school. She then attended the University of Illinois.  She graduated with a degree in Occupational Therapy.  She worked as an OT in many different venues, but her favorite is hand therapy.  She was a partner in an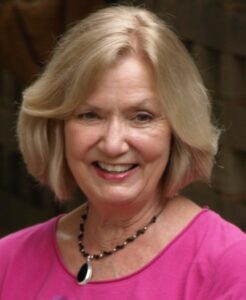 outpatient hand therapy center until 1999, and was the owner of an OT contracting service.  She has been an APD Board member since 1989, and served as a past President when Merica House was being established.
Along the way, she was married and had two children. Cathy, her daughter, lives at Merica House.  Sean, her son, lives about three blocks from her now with his wife and twin children, Declan and Hope, now 7 years old.
Retirement has brought with it the ability to travel with her husband, as well as volunteering at Merica House.  Sewing and other material arts have always been a love of hers, but she is most recently learning the ins and outs of quilting.  She also enjoys daily walks with her beloved black standard poodle, Elle.