A Tribute to Sharita
On January 24th, 2019, Sharita Caple, one of our residents, slipped away from us and moved on to her mansion in Heaven.  She took her big personality and her great sense of humor with her. We were incredibly fortunate to know her and to love her.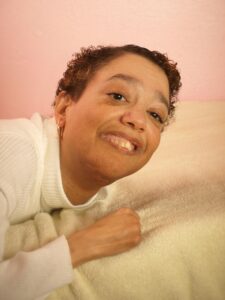 Sharita was born in Washington, D.C. in 1969 and grew up in Alexandria, VA. Her Mom passed away when Sharita was only four years old. She was raised by her grandparents and her dad. She was very proud of her dad. She told me, "My Daddy was the biggest influence in my life. He talked to me and taught me things. I really miss him."
By the time I met Sharita, all the relatives she had left were some cousins and her Grandma. She and Grandma spoke lovingly on the phone almost every day.
Sharita had cerebral palsy. Her speech was impaired, but that didn't stop her from developing relationships. She told me, "I am determined to express myself, so I help people to understand me by repeating myself multiple times." Sharita and I communicated by text. She would be in her bed and I would be at my desk so when she needed something, she texted me. We had some interesting and funny conversations. Many times she ended her texts with, "I love you."
Sharita was a smart lady. She had excellent spelling and punctuation. I know that from her texts. She learned new things easily. She used a computer, an iPad, and a cell phone. As for Merica House, Sharita said, "I love everyone here! We're like family, although like most families, there are times when we don't get along."
Sharita was among the first residents to move into Merica House when it opened in November of 1995. Her childhood best friend, Cathy Parr, moved into Merica House at the same time. They were "sisters" since they were six years old. They grew up together. During their first year at Merica House, Cathy and Sharita accompanied Harry Merica to Richmond to speak to the Virginia General Assembly. They explained what Merica House meant to them.
In that first year, Cathy and Sharita attended Northern Virginia Community College at their Alexandria campus and studied English for two semesters. Sharita loved to write short stories and poetry. Under the pen name "Roxann", she wrote several articles for a magazine.
For the first 15 years at Merica House, Sharita went to college classes, attended concerts at Constitution Hall and the Verizon Center in Washington, chatted online and met people on the internet. She made friends all over the world and was still in contact with some of them when she passed. She also attended movies, saw, the Ringling Bros. Circus, visited the National Gallery of Art, the Smithsonian, the National Zoo, the Capitol, and the Jefferson and Lincoln Memorials.
Sharita had very strong opinions about politics and was not afraid of expressing them. Our views were different, but I knew better than to get in an argument with her.
Sharita spent her days listening to rock music, reading or watching TV. She loved the channel ID (Investigation Discovery). She liked to order food and eat in front of the TV with her "baby". That's what she called her favorite stuffed Koala Bear. Sharita also enjoyed watching Redskin games and NASCAR.
In 2013, Sharita told me that Church had become the most important thing in her life. She was raised in the Baptist Church, but made the decision to join the Roman Catholic Church. She took religious education classes in Catholicism while Merica House's female residents coordinated a special outfit, complete with a veil, white dress, and white slippers for her Confirmation. Sharita received her First Communion in April of 2013 and she was Confirmed in that same year in June at Our Lady Queen of Peace Catholic Church in Arlington, VA. This continued to be an important step in Sharita's life. She eventually stopped attending services at Our Lady Queen of Peace but there were many times that I went into her room, and she was watching a religious service on TV. I heard very little Led Zeppelin or Jimmy Page after that, but a lot of spiritual music. Sharita had a lot of different clothes, but she met the Lord in her Confirmation outfit with her bear named, "Baby" in her arms.
Sharita is missed. She had sweet relationships with the other residents. Dee says that she loved Sharita like a sister. Cathy lost one of the closest relationships she had. The aides lost a resident who always appreciated everything. She was quite vocal with her gratitude and was very respectful to them. Many afternoons I found one or two of the aides sitting in Sharita's room spending time with her.
I miss our texts. A year ago her texts were excitedly talking about starting to write again. her last text to me, sent when she wanted to go back to the hospital was, "Help me please." Seeing this big, loving personality reduced to a frail, fragile body in need of help makes me so thankful that there is a God who loves her more than we do.